Motorhome Servicing and Repairs
NCC Approved Workshop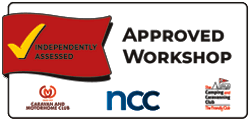 Whether you are a current Dolphin customer or haven't used us before, our Service facilities provide you with the service you deserve. Our premises feature a large five bay workshop, luxury customer waiting area and courtesy car facility. We have recently been announced as members of the NCC Approved Workshop Scheme which is the benchmark for motorhome servicing that gives you the peace of mind you need.

In order to be accepted on to the Scheme, all workshops must pass an annual inspection by a team of independent assessors and must comply with the Scheme's rigorous standards. This way you'll know that the right things are done, by the right people and to a high standard.

We are able to supply and fit a variety of different parts & accessories, however, pricing can vary according to your requirements. Therefore, please contact a member of our service team on 02380 406999 or e-mail us at service@dolphinmotorhomes.co.uk to discuss your specific needs.


• Your Annual SMMT Habitation Check
• Accessories Supplies and Fitting
• Motorhome Repairs
• General Modifications
• Insurance Repair Work
• Accident Repairs

Our fully trained service staff can also carry out the following work:

We offer SMMT Habitation checks for a cost of only £234 (including VAT). It is vital these checks are carried out on an annual basis to ensure your motorhome is maintained to a high standard, as well as for your own safety. It is also necessary to ensure that your warranty remains valid. The check is carried out to 'SMMT' regulations, and the inspection includes the following:-

Body Mounting | Windows | Doors | Chassis Attachments | Body Exterior Attachments | Internal | Gas Systems | Water System | Electrical Systems | Ventilation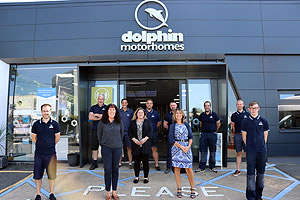 We are able to offer our customers the option to purchase a '3 Year SMMT Contract Plan' for the special price of £575 (including VAT), providing this is paid upfront. This represents a saving of £127. To book your SMMT Habitation check or for any service bookings, please contact us on 02380 406999 or e-mail us at service@dolphinmotorhomes.co.uk.
Whatever your motorhome needs the Dolphin Motorhomes Service Centre Team, is always on hand to offer you the best possible help and advice.
Our service team is always happy to discuss any of your motorhoming queries, and will sort out any problems or faults you my have.
With prior arrangements we are able to provide a suitable courtesy vehicle to use whilst your motorhome is being worked on.
If you have any other queries, please feel free to contact a member of the team and we will be happy to assist you in any way we can.
Kind Regards
Dolphin Motorhomes Service Team